Challenge & Breakthrough…
Acupuncture/ Integrative Medicine
At Healing Tree Wellnes Center, we recognize the importance of a patient centered medical experience. This inspires us to create strong and long lasting bonds with each of our patients. By providing hollistically care and listening to our patient's desires, Each appointment with us typically includes 15-30 minutes of face to face time with your provider, depending on new versus established patients.
This gives us the ability to truly understand and care for our patients while giving them the attention they deserve from their primary care provider.
Here at Healing Tree Wellness Center, we take a holistic, functional & integrative approach to alternative eastern and advanced nutrional prescription supplement medicine care. Our holistic medicine care services are not limited to just one type of individual. We are an inclusive practice and offer care of not only for symptom relief but also for extensive health condition level up. It is a privilege to serve the community of bend by providing quality, inclusive integrative functional holistic care.
Just some of what we offer…
Pain Management
After surgical side effect syndrome care
Spine Care
Weightloss & Detoxfication
Auto/Work injury care
Gastro intestinal disorder
Women's health

P.M.S
M.P.S
Hormonal imbalance
Infertility
Prepare pregnancy care
Postpartum syndrome care
Wellness Program
Chronic fatigue
Depression & Anxiety
Facial Rejuvenation
Seasonal Allergy
We Care….
Surgical Care
Post Chemotherapy Syndrome
Post Cosmetic Surgery Syndrome
Post Trauma Surgery Syndrome
Spinal Care
Spinal Stenosis/Degenerative Disc Syndrome
Herniated Disc/ Bulging Disc
Scoliosis/ Spondylolisthesis/ Spondylosis
Post surgery Care
Pain Management Care
Sciatic Pain/ Low Back Pain
Rhematoid/ Osteoarthritis
Carpal Tunnel Syndrome
Frozen Shoulder/ Neck Pain
Fibromyalgia
Sports Injuries/ Work related injuries
Wellness Program Care
Chronic Fatigue Syndrome/ Increase energy level
PMS/ Menopause Syndrome
Insomnia/ Depression/ Anxiety/ Migrain
Weight Loss & Obesity
Holistic Facial rejuvenation
Allergy & Rhinitis
Gastrointestinal Disorder Care
Gastritis/ Peptic ulcer
Gastroesophageal reflux disease (GERD)
Fatty liver/ Liver failure
Constipation
Chronic Diarrhea
Neurological Disorder Care
Bell's Palsy/ Neuropathy
How does Acupuncture work?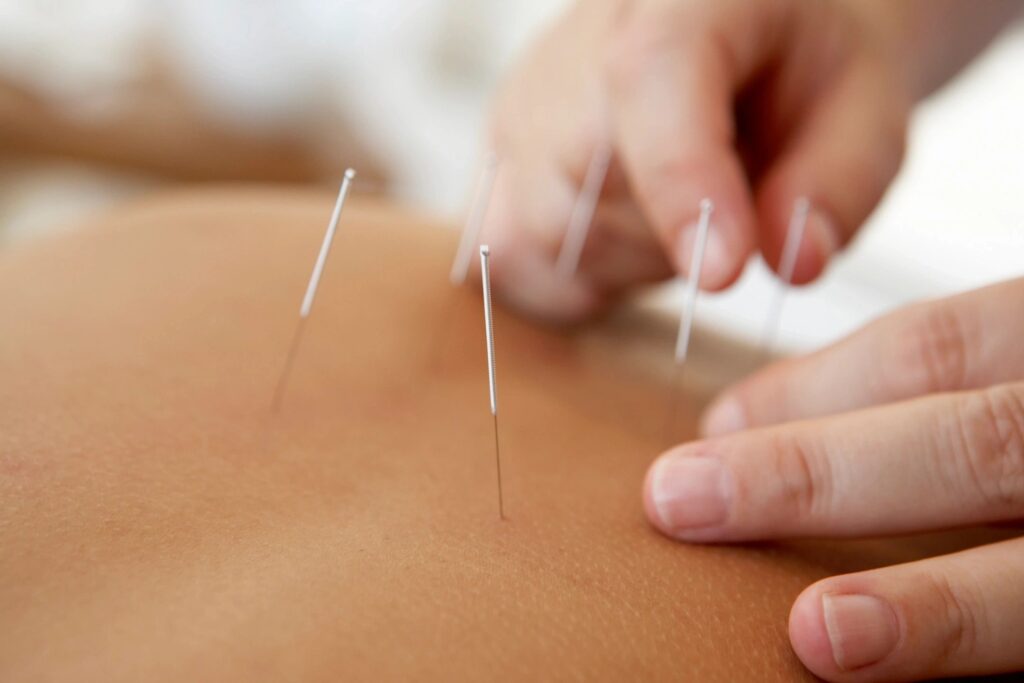 Acupuncture involves the insertion of very thin needles through your skin at strategic points on your body. A key component of traditional Chinese medicine theory is the control of Meridians and collaterals that balance the human body.
The meridians and collaterals are the pathways in which the Qi and blood of the human body are circulated. They pertain to the Zang-Fu organs, Zang means five major organs of the human body: Heart, Liver, Spleen, Lung, and Kidney.
Fu means six sub organs of the body: Gallbladder, Small intestine, Stomach, Large-Intestine, Bladder, Sanjiao. Interiorly forming a network and linking the tissues and organs into an organic whole.
Acupuncture adjusts and stimulates the Qi and the blood blance of Zang-Fu of the body and homeostatic energy circulation properly.
Acupuncture began in ancient China, Korea, and Japan for more than 2,500 years of long historical experimental medicine. According to TCM theory the body has more than 2,000 of these points, among of these over 400 points practically have each own name by their functions.
Practitioners believe that this helps relieve pain and improve health. Through the effects that come from stimulating the centeral nervous system, this may trigger the release of chemicals into the muscles, spinal cord, and brain. These chemicals either alter the experience of pain or produce bodily changes that promotes a sense of well being.
Other theories suggest acupuncture works by:
Speeding the relay of electromagnetic signals ( This may begin the flow of pain killing chemicals such as endorphins, or release immune system cells in the body.)
Triggering the release of natural opioids ( These are chemicals in the brain that may lessen pain, stabilize the nervousness and promote sleep.)
Changing brain chemistry by alternating the release of neurotransmitters and nuerohormones ( Nuerohormones either stimulate or dampen nerve impulses, affect the function or activity of organs in the body.)